Unsure of how to get your REVOKED Driver's License restored?
Eliminate the headache and confusion of getting your revoked license restored in as quickly as 12 weeks- here's how.
There's no need to jump through endless hoops to restore your revoked license. Our team has identified the most common and challenging obstacles that those face seeking license restoration, and we've designed a straightforward legal program with those difficulties in mind.
When you select our firm, our team takes the responsibility to obtain everything you need to ensure a timely submission. We will continue to check in regularly and keep you informed throughout every step of the process.
Within twelve weeks, your restricted license will be restored – but we don't just stop there. Read further to learn about our step-by-step process for full license restoration success.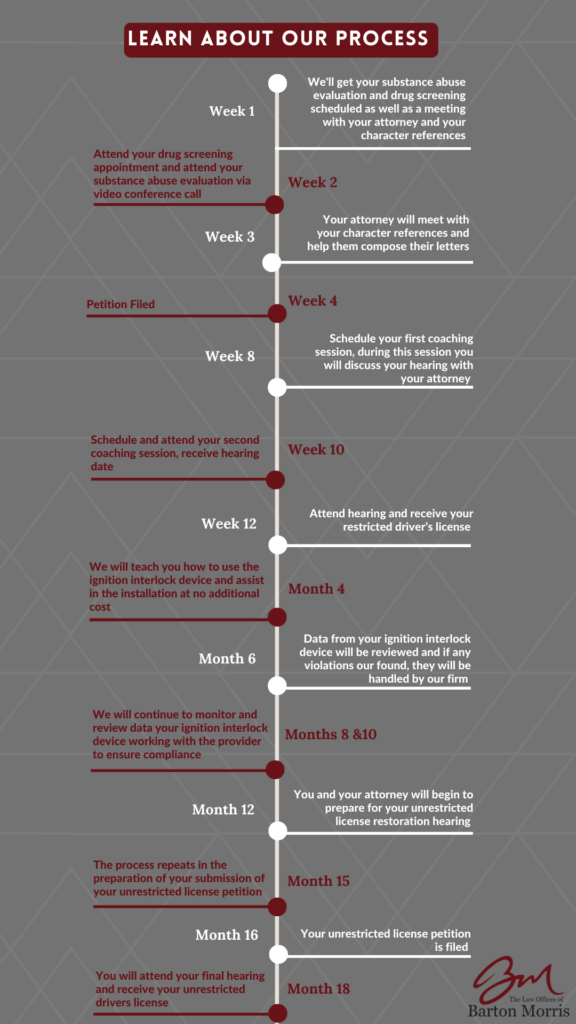 A driver's license is critical to our work and social lives in Michigan. You need a great Michigan driver's license restoration lawyer. We want to help you and likely can, as proven by the fact that we win 98% of our cases.
Why Are We So Successful?
It comes down to two main reasons: preparation and experience. We pay meticulous attention to detail. The Secretary of State requires your Substance Use Evaluation, Letters of Support, and Petitioner's Affidavit to be perfect. Any discrepancies or inconsistencies can result in you losing your case. Losing your case means a one year wait before you can again apply for reinstatement.
We've been handling driver license restoration for decades, specialize in them, and have won the overwhelming majority of our cases. We've handled thousands of driver license restorations.
Free Evaluation of Your Driver's License Restoration Case
We really do want to help you. In fact, we'll pull your driving record and provide you with a free consultation. But the sooner we discuss your situation, the sooner we can get you back on the road.
Helping You Get Your Driving Privileges Back
Unlike a license suspension in which the license is reinstated automatically after the holder pays the reinstatement fee, when your license has been revoked you have to apply to the courts to have it restored. Additionally, you'll have to attend a Driver License Appeal Division Hearing at which the court will determine if your driving privileges will be reinstated.
The Process of Having Your Driver's License Restored
Most commonly, a driver's license will be revoked for a specified period following an OWI conviction. For example, your license may be revoked for a year if you receive two (2) OWI offenses within seven (7) years, or it may be revoked for five (5) years if you receive three (3) OWI offenses within ten (10) years. At the end of your revocation period, you can apply to have your license reinstated.
The reinstatement process involves:
Reviewing your driving record and conviction history
Collecting letters that document your sobriety
Reviewing your personal history
Evaluating for substance abuse
Drug testing
If you're required to have a breath alcohol ignition interlock device installed in your vehicle, we'll help you obtain the device.
We Make You Our Priority
With so much at stake, it's essential that you work with a lawyer in whom you feel confident. Our team of attorneys, paralegals, and other support staff have more than 20 years of experience handling driver's license restoration cases, and we value the attorney-client relationship greatly. Our job doesn't end when we leave the courtroom, we'll be with you every step of the way.
We know that the key to a successful resolution lies in detail-oriented preparation and planning. When you work with us, our Michigan driver's license restoration lawyers will work on your case together.