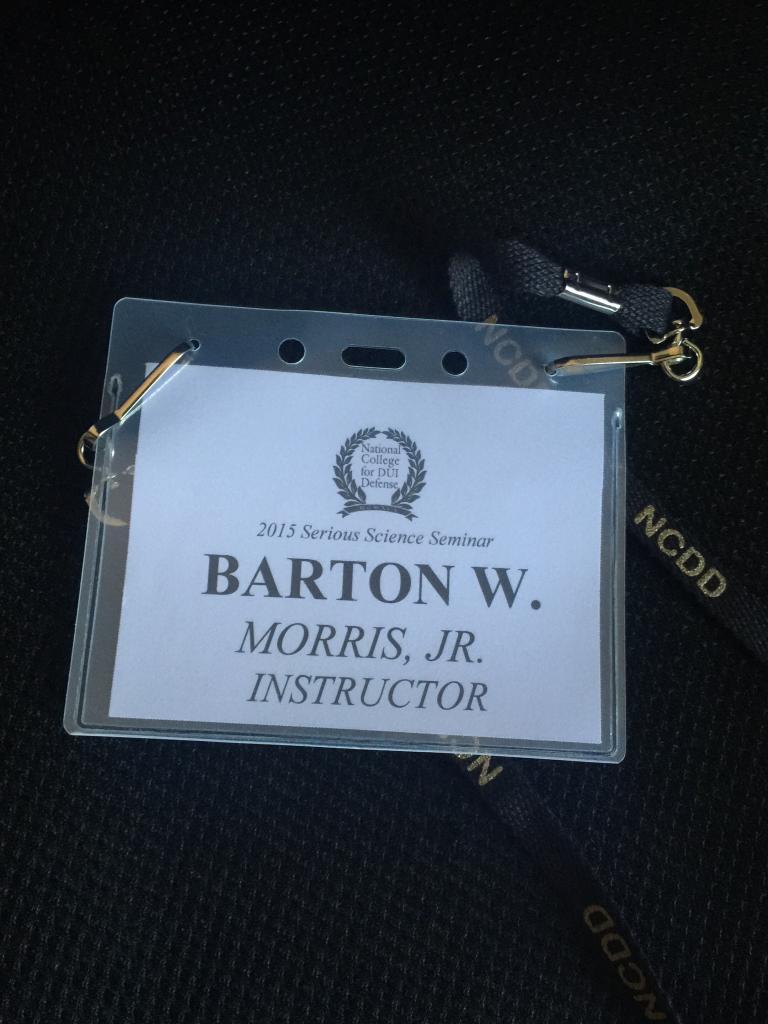 I am in Fort Collins Colorado as a faculty member for NCDD's Serious Science for Serious Lawyers. Today is Tuesday, day two and we were introduced to two more Ph.D to teach us. Dr. Patricia Sulik and Dr. Robert Lantz, both from Rocky Mountain Labs. They both have Ph.D.s in analytical chemistry. Dr. Sulik lectured about the best practices of a scientific laboratory including employee hiring and proficiency testing. Dr. Lantz followed up by pointing out the differences between an independent lab and a state forensic lab the latter being inherently biased which is exactly the opposite of the proper demeanor of a scientist. Because their only customer is law enforcement and prosecutors, state forensic scientists have different motivations, their employee qualifications are sub par, and they lack proper independent state and federal regulation.
State forensic laboratories receive hundreds of unknown biological samples to test every week. Therefore they run somewhat of an assembly line. The attendees all loved when Dr. Lantz stated that "one problem with automation is that you can do a lot of bad work fast"
Quality control auditor Janine Arvizu also lectured on key measurement concepts specific to blood alcohol and drug testing including very important concepts like preparing a calibration curve for the GC, the indirect measurement and interpolation of the internal standard method, and an overview of reference materials, traceability and measurement uncertainty. A skilled DUI attorney must know these concepts to expertly fight any blood alcohol or drugged driving case.
Today we brought these concepts to the real world when we took the afternoon and visited Rocky Mountain Labs. They demonstrated the intake process of analyzing unknown samples including the intake of the samples, maintenance of the instruments, preparation of samples, preparing a calibration curve, utilizing the software and running unknown samples for a determination of ethanol.
I learned that Colorado allows the defense attorney to do an independent analysis of their client's blood sample and they do not have to share the results with the prosecution. That is not the case in Michigan. If I have a independent analysis of a sample, the prosecution will know what it was which is why I never do it. Here, it is common practice, which is a lot of Rocky Mountain's business.
I have had a lot of lab experience so I began to tire so fellow instructor, the Texas DUI DUDE Jamie Balagia and I ducked out early and visited a marijuana dispensary. The marijuana business in Colorado is fascinating to me so I enjoy visiting different places and speaking to the employees. Colorado is very unique right now in this regard. Marijuana seemingly is a HUGE industry here. Fort Collins is home to Colorado State University with about 30,000 students. I do not know how much the campus drives marijuana business here but it is clearly a part of the culture.
After coming back to the hotel and a rest, I rode my mountain bike on the trails of nearby Horse Tooth Mountain where I racked up 22 miles and about 1200 feet of climbing. After that I watched the end of the NBA Finals where Lebron James and the Cleveland Cavaliers beat the favorite Golden State Warriors to take a 2 games to 1 lead. It has been another great day.
Tomorrow we work on trial skills, which is why I am here. We will learn the art of telling a story in opening statement.
Attorney Morris has enjoyed a very successful and distinguished career as a trial lawyer providing high quality legal representation in the area of state and federal criminal defense for 20 years. He is known for his trial preparation by fellow attorneys, judges and clients alike. As a trial attorney, he is dedicated to attaining justice in every case, and is prepared to take on complex legal issues with success. Barton and his law firm pride themselves on obtaining results for their clients that other attorneys cannot.
Not only does Barton Morris have extensive experience, he also engages in continuing legal education to provide the highest quality legal services. Barton has received specialized scientific training through the American Chemical Society. He attended the prestigious Trial Lawyers College and serves on its Alumni Association Board of Directors. Barton Morris is also a board member of several distinguished legal associations including the Michigan Association of OWI Attorneys, and the DUI Defense Lawyer's Association Justice Foundation. He is also an active member of the National Association of Criminal Defense Attorneys and has also graduated from their National Criminal Defense Trial College in Macon, Georgia.
Barton Morris was chosen as a Top Lawyer of Metro Detroit for 2012, 2013, 2014, 2019 and 2020 for DUI/DWI and criminal defense by DBusiness Magazine and Hour Magazine. Barton Morris was also chosen as a Super Lawyer in Criminal Defense for 2014-2020 and Barton Morris is the only Lawyer in Michigan designated by the American Chemical Society as a "Forensic Lawyer-Scientist"