Will we see medical marijuana vending machines in 2015?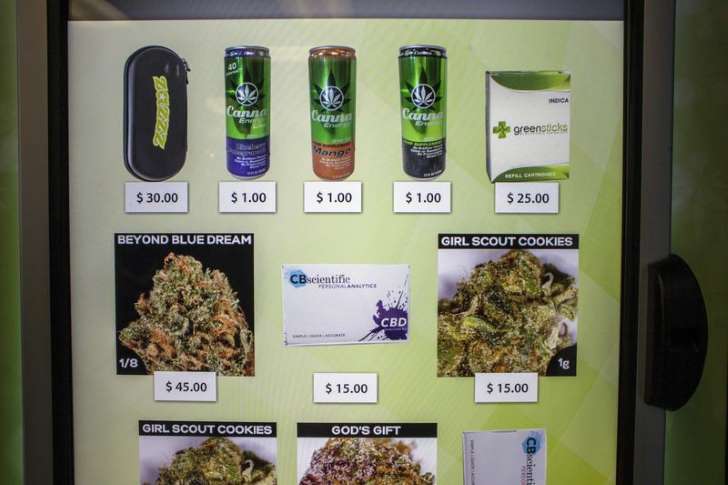 Most Michigan medical marijuana card holders know about the hundreds of dispensaries that are currently in operation around the state. Whether they are operating legally is certainly in question but that does not seem to stop them for now. It is widely believed that the Michigan Legislature will enact marijuana dispensary legislation in 2015. Dispensary proposal House Bill 4271 almost became law in 2014 but fell short. But the presently operating dispensaries are busy with waiting customers and long lines. A marijuana vending machine may change all of that. American Green is a publicly traded marijuana dispensary brand and they have developed the first marijuana vending machine which are now in operation in Colorado and Washington.
Reportedly, they have plans for Michigan as well. Michigan is one of a few states that the company is targeting for installation of their vending machine called the ZaZZZ. My guess is that they are preparing for the Michigan Legislature to pass the provisioning centers law which would give American Green the green light. The ZaZZZ is designed to shorten waits for medical purchases. It has the technology to read a medical marijuana card for security and can vend marijuana and edibles. What will they think of next?
Attorney Morris has enjoyed a very successful and distinguished career as a trial lawyer providing high quality legal representation in the area of state and federal criminal defense for 20 years. He is known for his trial preparation by fellow attorneys, judges and clients alike. As a trial attorney, he is dedicated to attaining justice in every case, and is prepared to take on complex legal issues with success. Barton and his law firm pride themselves on obtaining results for their clients that other attorneys cannot.
Not only does Barton Morris have extensive experience, he also engages in continuing legal education to provide the highest quality legal services. Barton has received specialized scientific training through the American Chemical Society. He attended the prestigious Trial Lawyers College and serves on its Alumni Association Board of Directors. Barton Morris is also a board member of several distinguished legal associations including the Michigan Association of OWI Attorneys, and the DUI Defense Lawyer's Association Justice Foundation. He is also an active member of the National Association of Criminal Defense Attorneys and has also graduated from their National Criminal Defense Trial College in Macon, Georgia.
Barton Morris was chosen as a Top Lawyer of Metro Detroit for 2012, 2013, 2014, 2019 and 2020 for DUI/DWI and criminal defense by DBusiness Magazine and Hour Magazine. Barton Morris was also chosen as a Super Lawyer in Criminal Defense for 2014-2020 and Barton Morris is the only Lawyer in Michigan designated by the American Chemical Society as a "Forensic Lawyer-Scientist"