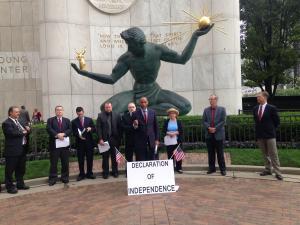 In celebration of Independence Day, on July 3, 2014 the Law Office of Barton Morris organized a public reading of the Declaration of Independence in front of the Spirit of Detroit Monument in downtown Detroit. 10 criminal defense attorneys took turns reading portions of the writing that signifies the independence of the United States of America in in 1776, shortly after the revolutionary war began. The event was a success as the participants were feeling especially patriotic. It was a great way to start the Fourth of July Weekend. We will definitely do it again next year. Thank you to Law Clerk Chris Urban for doing most of the work to put this together. Below is a transcript of Barton Morris' opening remarks.
On July 2, 1776 the Continental Congress of the 13 original colonies voted unanimously to declare their independence from Great Britain. On Jul 4, 1776 they signed the declaration of independence. This declaration was then publicly read to the citizens advising them that they were no longer part of the British Empire and now part of a new nation, the United States of America. It was on that day our country gained its independence.
Therefore a celebration of our independence cannot be complete without a public reading of the declaration of independence and that is what we are here to do today.
Abraham Lincoln in his famous Gettysburg Address in 1863 quoted a now famous passage of the declaration when he stated that
"we hold these truths to be self-evident, that all men are created equal, that they have been endowed by their creator certain unalienable rights that among those are the right to life, liberty and the pursuit of happiness."
These words have become the most famous and well know words in our American history. They stand for the same individual human rights that criminal defense attorneys fight for on behalf of their clients every day across this county.
Today we stand before the Spirit of Detroit and just as this statute is a symbol of Detroit's character, hard work and spirit, the declaration stands as a symbol of national independence across the world. Many nations have used our declaration to form the basis of their own.
So it is only appropriate that criminal defense attorneys perform this public reading and we are very proud to do it this morning. As each attorney begins to read a portion I would like them to first identify themselves. We shall begin with the distinguished gentleman Gary Wilson. 
As read by Barton Morris at 9:00 a.m. on July 3, 2014 on the sidewalk in front of the Spirit of Detroit Monument located at the corner of Woodward and Jefferson Avenues.
Attorney Morris has enjoyed a very successful and distinguished career as a trial lawyer providing high quality legal representation in the area of state and federal criminal defense for 20 years. He is known for his trial preparation by fellow attorneys, judges and clients alike. As a trial attorney, he is dedicated to attaining justice in every case, and is prepared to take on complex legal issues with success. Barton and his law firm pride themselves on obtaining results for their clients that other attorneys cannot.
Not only does Barton Morris have extensive experience, he also engages in continuing legal education to provide the highest quality legal services. Barton has received specialized scientific training through the American Chemical Society. He attended the prestigious Trial Lawyers College and serves on its Alumni Association Board of Directors. Barton Morris is also a board member of several distinguished legal associations including the Michigan Association of OWI Attorneys, and the DUI Defense Lawyer's Association Justice Foundation. He is also an active member of the National Association of Criminal Defense Attorneys and has also graduated from their National Criminal Defense Trial College in Macon, Georgia.
Barton Morris was chosen as a Top Lawyer of Metro Detroit for 2012, 2013, 2014, 2019 and 2020 for DUI/DWI and criminal defense by DBusiness Magazine and Hour Magazine. Barton Morris was also chosen as a Super Lawyer in Criminal Defense for 2014-2020 and Barton Morris is the only Lawyer in Michigan designated by the American Chemical Society as a "Forensic Lawyer-Scientist"