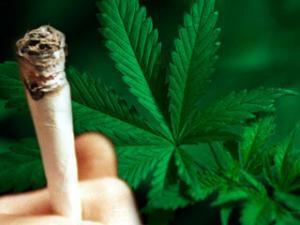 In an overwhelming and emotional 219 to 189 vote, the House of Representatives approved an amendment that will stop medical marijuana raids.  The new law puts an end to federal interference with state laws that authorize the use, distribution, possession, or cultivation of medical marijuana.
Specifically, the law prohibits the Department of Justice (DOJ), which includes the DEA from spending any funds on the arrest, raids, and prosecutions of state authorized medical marijuana patients, their care providers and dispensaries.
This is big news for the 22 states that allow marijuana for medical use: Alaska, Arizona, California, Colorado, Connecticut, DC, Delaware, Hawaii, Illinois, Maine, Maryland, Massachusetts, Michigan, Minnesota, Montana, Nevada, New Hampshire, New Jersey, New Mexico, Oregon, Rhode Island, Vermont and Washington.
This is the first time Congress has approved a major marijuana reform which goes to show that times are finally changing.  This amendment "received more support from Republicans than ever before," according to Dan Riffle of the Marijuana Policy Project.  Of the 219 voting in favor of the amendment, 49 were unexpectedly from Republicans.  Medical marijuana advocates are fully aware of the momentum they are gaining and are responding with enthusiasm.  Mason Tvert Director of Communications Marijuana Policy Project, said "this is a major sign that things are moving full-speed in the right direction at the federal level, as well as the state level."
State residents who are using medical marijuana are even more excited.  Many of these patients rely on medical marijuana as a treatment method for pain relief, nausea, glaucoma, movement disorders and even as an appetite stimulant.  Not having to worry about being arrested, prosecuted or having their doors banged down in the middle of the night is a giant sigh of relief.
Twitter is being bombarded with tweets all echoing the same long sought after relief – FINALLY!
If you have been charged with an offense involving marijuana in Oakland, Wayne, or Macomb County or any of its surrounding communities call an attorney at the Law Office of Barton Morris today.
Attorney Morris has enjoyed a very successful and distinguished career as a trial lawyer providing high quality legal representation in the area of state and federal criminal defense for 20 years. He is known for his trial preparation by fellow attorneys, judges and clients alike. As a trial attorney, he is dedicated to attaining justice in every case, and is prepared to take on complex legal issues with success. Barton and his law firm pride themselves on obtaining results for their clients that other attorneys cannot.
Not only does Barton Morris have extensive experience, he also engages in continuing legal education to provide the highest quality legal services. Barton has received specialized scientific training through the American Chemical Society. He attended the prestigious Trial Lawyers College and serves on its Alumni Association Board of Directors. Barton Morris is also a board member of several distinguished legal associations including the Michigan Association of OWI Attorneys, and the DUI Defense Lawyer's Association Justice Foundation. He is also an active member of the National Association of Criminal Defense Attorneys and has also graduated from their National Criminal Defense Trial College in Macon, Georgia.
Barton Morris was chosen as a Top Lawyer of Metro Detroit for 2012, 2013, 2014, 2019 and 2020 for DUI/DWI and criminal defense by DBusiness Magazine and Hour Magazine. Barton Morris was also chosen as a Super Lawyer in Criminal Defense for 2014-2020 and Barton Morris is the only Lawyer in Michigan designated by the American Chemical Society as a "Forensic Lawyer-Scientist"