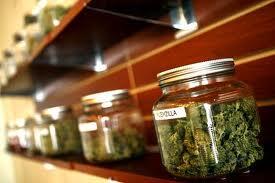 Mlive.com posted a poll asking the public if Michigan can go without dispensaries. There was a recent Michigan Appeals Court decision that banned the sale of medical marijuana through dispensaries.
Website: Mlive Medical Marijuana Article
Aug. 24, 2011, 2:28 p.m. EDT
Associated Press
DETROIT (AP) — Medical marijuana cannot be sold through private shops, the Michigan appeals court said Wednesday in a major decision that strikes at businesses trying to cash in on pot.
A three-judge panel said the 2008 medical marijuana law, as well as the state's public health code, does not allow people to sell pot to each other, even if they're among the 99,500 who have state-issued marijuana cards.
The court said Compassionate Apothecary, known as CA, in Mount Pleasant can be immediately shut down as a "public nuisance."
It is the first time the appeals court has ruled in a case involving commercial pot sales. The Michigan Supreme Court has agreed to hear appeals on other aspects of the medical marijuana law.
CA allows certain people to sell marijuana to each other, with the owners taking as much as a 20 percent cut. In less than three months, the business earned $21,000 before expenses after opening in May 2010.
Authorities went to court to shut down the business, but a judge refused, saying the medical marijuana law allowed the transfer of pot from patient to patient.
CA has 345 members. They are certified by the state to use marijuana to alleviate pain or other medical problems, or they are registered caregivers for patients. They can rent marijuana lockers for $50 a month.
CA and its owners claimed they aren't doing anything illegal because the voter-approved law allows the "delivery" and "transfer" of marijuana. The appeals court, however, said the law provides no cover.
Michigan's law doesn't indicate how people who are allowed to use marijuana for medical purposes can get hold of supplies. It says they can possess up to 2.5 ounces of "usable" pot and keep up to 12 plants in a locked place.
"The 'medical use' of marijuana does not include patient-to-patient 'sales' of marijuana. Defendants, therefore, have no authority under the (law) to operate a marijuana dispensary that actively engages in and carries out patient-to-patient sales," said judges Joel Hoekstra, Christopher Murray and Cynthia Diane Stephens.
Matthew Abel, a Detroit attorney who specializes in medical marijuana law, estimates there are 200 to 300 similar shops in Michigan.
"If there's money that goes over the counter, it could be affected" by the decision, Abel said. "Some people never go. They simply grow their own."
Nick Tennant, who advises marijuana users at a Detroit-area trade school called Med Grow Cannabis College, said he wasn't surprised by the court decision. Opening a shop, he said, was "extremely risky."
"Our law gives no specific guidelines to the operation of dispensaries — nothing. Other states do. Look at Colorado," Tennant said.
Indeed, medical marijuana is more than 10 years old in Colorado. On July 1, dozens of rules took effect there allowing and regulating the sale of pot at commercial businesses. Sixteen states and the District of Columbia allow the medical use of marijuana.