Expungement– What is it?
House Bill 4186 proposes changes to Michigan's criminal conviction set aside act – allowing for the removal of — or expungement of certain convictions from public record. The bill has passed the house and senate and is waiting for the government's signature.
Challenges faced with convictions and expungement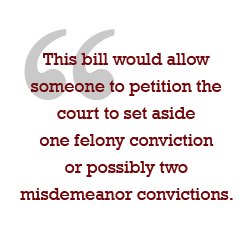 When is a person's 'debt to society' paid? This is a primary question in deciding whether or not a conviction can be set aside. There are a large number of Americans across the country that have criminal records. Numerous challenges can face those with a public record of criminal convictions, including employment, licensing, and financing as well as housing difficulties. It is not uncommon for employers to conduct background checks of potential job candidates, only to refuse hiring them based upon a criminal record, often without regard to the charge, or the age of the conviction. There is a negative stigma associated with having a criminal record and many times people are faced with answering for past bad acts permanently. It is important to note that this bill gives greater scope to granting expunctions for those eligible while still protecting victims' rights and public interest in safety.
Michigan has several restrictions in place preventing those with a conviction in having it removed from public access. It can be rather difficult for people to move on with their lives and having an opportunity to rebuilding a good reputation if they are forever hindered with what oftentimes are old convictions. There can be confusion with what convictions meet the criteria to be set aside – something frustrating indeed. If someone is eligible for a conviction set-aside, it is still up to the discretion of the court whether or not to grant the request. It is not automatic.
What is in House Bill 4186?
This bill would allow someone to petition the court to set aside (removal from public record) one felony conviction or possibly two misdemeanor convictions. It defines what the various restrictions on eligibility for expunction are, including a list of offenses that cannot be set aside including driving offenses.
The bill would modify applications to set aside convictions in two key areas:
1. If someone is convicted of ONE felony offense with two or fewer 'minor misdemeanors,' the court could be petitioned to remove the felony.
2. If someone is convicted of NOT MORE THAN two misdemeanor Offenses and no felony / misdemeanor offenses, the court could be Petitioned to set aside one or both of the misdemeanor convictions.
Here 'minor misdemeanors' are violations that include: a maximum jail term of 90 days, AND occurred when a person was 21 years old or younger.
Other combinations of charges or multiple felonies are not allowed to be set aside.
Under this bill, a five year waiting period is required before applying to petition the court — after completing probation, parole discharge, or jail-time served, whichever is latest in time. This is considered a sufficient passage of time to establish a long-term change in behavior and lifestyle.
The Big Picture
There is promise and some optimism with this bill. It is a harsh reality for someone in their forties, fifties, and beyond who are law-abiding citizens to be forever 'charged' with a crime committed years ago. It is a tool with which people can possibly go beyond accounting for outdated convictions and look forward to a future that is not fixated on the past.