A person charged and indicted with a criminal offense in Federal Court will have a magistrate judge make a decision on pre-trial release. In the Eastern District of Michigan it will either be a release on personal recognizance with conditions or detention (aka jail). The Eastern District has a custom not to use cash bonds. A major factor in the magistrate's decision is the recommendation from the United States Pretrial Services Agency. With pre-trial release rates at about 70%, the Eastern District has one of the highest release rates among Federal District Courts in the country. The Chief Pretrial Services Officer Alan H. Murray is proud of that level of success because their rate of release absconders is among the lowest in the nation. In his words "unsecured bonds work as long as the right conditions are in place."
He said just that at Federal Bar Association's Criminal Practice Committee panel discussion on the Pre-Trial Services Agency on March 13, 2013. Barton Morris, member of the Federal Criminal Practice Committee, was present at the panel. Officer Murray and five additional pre-trial service officers held a discussion with federal criminal practitioners regarding their duties, practices and answered questions.
The Bail Reform Act of 1984 which revised the practices relating to bail to ensure that all persons shall not needlessly be detained pending their case states. It states that any bail conditions be as least restrictive as necessary to reasonably assure the defendant's court appearance and protection of public safety.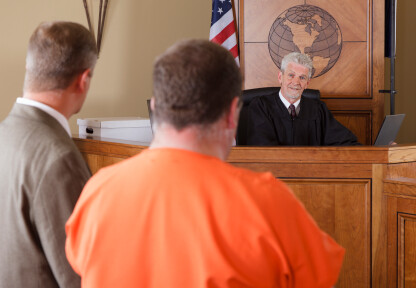 The detention or release determination is usually made at the initial appearance before the magistrate judge. If detention is ordered the defendant is entitled to a detention hearing which must be held promptly at which the defendant may provide evidence and testimony to argue why pre-trial release is appropriate and what conditions may be effective to ensure court appearance and public safety.
The Pre-Trial Services recommendation is extremely influential and important. Factors they consider when making a release recommendation include the defendant's character, physical and mental condition, family ties, employment, financial resources, community ties, past conduct, drug and alcohol use history, criminal record, prior record of court appearances, whether they were on probation, parole, or bond during the alleged offense. To obtain a favorable recommendation it is important to assist the officer with positive documentation and verification of any of the above issues.
There are numerous types of conditions that can be recommended as well. A location monitoring tether is often recommended. A GPS model is usually recommended for defendants accused of sexual predatory conduct. New cellular telephone options are now available making a land line not necessary. Programs for computer monitoring are installed for defendants charged with computer related crimes. Drug and alcohol treatment is recommended if appropriate. Mental health treatment is also an option.
After the release and conditions has been ordered it is important for the defendant and his attorney to maintain regular communication with the pre-trial officer. A good relationship is important. If the defendant is convicted, the pre-trial officer will typically write a report about the defendant's compliance while on bond. If the defendant is sentenced to incarceration, the officer will also make a recommendation to allow self-surrender to the Federal Bureau of Prisons. Without self-surrender, the Defendant will be remanded into custody immediately following the sentencing hearing. Click here for typical questions and answers about the federal self-surrender program. Page 1 and Page 2.
Keeping a defendant released during their case allows for better assistance and investigation with their defense. Additionally, it is this writer's experience that defendant's that are released during their case receive better sentences than defendants that are detained. Pretrial release also allows a defendant to show the court they can behave and comply with conditions which also will improve a sentence.
Attorney Morris has enjoyed a very successful and distinguished career as a trial lawyer providing high quality legal representation in the area of state and federal criminal defense for 20 years. He is known for his trial preparation by fellow attorneys, judges and clients alike. As a trial attorney, he is dedicated to attaining justice in every case, and is prepared to take on complex legal issues with success. Barton and his law firm pride themselves on obtaining results for their clients that other attorneys cannot.
Not only does Barton Morris have extensive experience, he also engages in continuing legal education to provide the highest quality legal services. Barton has received specialized scientific training through the American Chemical Society. He attended the prestigious Trial Lawyers College and serves on its Alumni Association Board of Directors. Barton Morris is also a board member of several distinguished legal associations including the Michigan Association of OWI Attorneys, and the DUI Defense Lawyer's Association Justice Foundation. He is also an active member of the National Association of Criminal Defense Attorneys and has also graduated from their National Criminal Defense Trial College in Macon, Georgia.
Barton Morris was chosen as a Top Lawyer of Metro Detroit for 2012, 2013, 2014, 2019 and 2020 for DUI/DWI and criminal defense by DBusiness Magazine and Hour Magazine. Barton Morris was also chosen as a Super Lawyer in Criminal Defense for 2014-2020 and Barton Morris is the only Lawyer in Michigan designated by the American Chemical Society as a "Forensic Lawyer-Scientist"