As parents, we are often challenged with disciplining our children.  Sometimes things go too far and parents are accused of crossing the line.  While child abuse is a serious crime it is also extremely devastating to be prosecuted for what you believed to be, and is, reasonable discipline.
If accused of child abuse, when a parent is claiming that they were disciplining their child, the facts of what happened will not be disputed.  Instead the parent will have to be honest and admit to everything they did, and explain what it was that made them angry in the first place.  The parent will have to show that there was some sort of justification for what they did.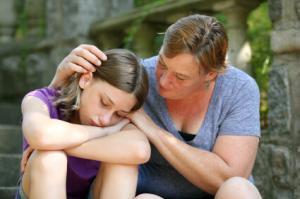 The prosecutor then has the heavy burden of proving beyond a reasonable doubt that any force used was not reasonable.
It is important to understand that it is not a crime to punish a child.  In fact, in Michigan a parent is allowed to use a reasonable amount of force to discipline their child.  Courts have held that in some circumstances it was reasonable to use some amount of force against a child, such as: spanking, slapping, pushing, and restraining.
Because parental discipline is an affirmative defense, discussing the case with an experienced criminal defense lawyer is crucial because a child abuse conviction can mean up to life in prison, the inability to obtain certain types of employment, a referral to child protective services and the possibility of losing your parental rights.
Don't let the police, prosecutor, your ex-spouse or your child make you feel guilty, and plead guilty, to something you know you didn't do.   Everyone knows that sometimes kids get out of hand, especially teenagers, and harsh parenting is occasionally necessary to protect them in the long run.
If you have been charged with child abuse and believe you have a parental discipline defense in the Oakland, Wayne, or Macomb county communities of Royal Oak, Bloomfield Hills, Detroit, Warren, Troy, Sterling Heights or any surrounding area and want the best criminal law defense attorneys, call the Law Office of Barton Morris today.
Attorney Morris has enjoyed a very successful and distinguished career as a trial lawyer providing high quality legal representation in the area of state and federal criminal defense for 20 years. He is known for his trial preparation by fellow attorneys, judges and clients alike. As a trial attorney, he is dedicated to attaining justice in every case, and is prepared to take on complex legal issues with success. Barton and his law firm pride themselves on obtaining results for their clients that other attorneys cannot.
Not only does Barton Morris have extensive experience, he also engages in continuing legal education to provide the highest quality legal services. Barton has received specialized scientific training through the American Chemical Society. He attended the prestigious Trial Lawyers College and serves on its Alumni Association Board of Directors. Barton Morris is also a board member of several distinguished legal associations including the Michigan Association of OWI Attorneys, and the DUI Defense Lawyer's Association Justice Foundation. He is also an active member of the National Association of Criminal Defense Attorneys and has also graduated from their National Criminal Defense Trial College in Macon, Georgia.
Barton Morris was chosen as a Top Lawyer of Metro Detroit for 2012, 2013, 2014, 2019 and 2020 for DUI/DWI and criminal defense by DBusiness Magazine and Hour Magazine. Barton Morris was also chosen as a Super Lawyer in Criminal Defense for 2014-2020 and Barton Morris is the only Lawyer in Michigan designated by the American Chemical Society as a "Forensic Lawyer-Scientist"