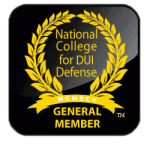 Effectively defending alcohol and drugged driving violations requires a high amount of specialized education, knowledge and experience of several disciplines. Knowledge of the fundamentals of breath alcohol testing, blood alcohol and drug testing, police DUI investigation techniques including field sobriety testing and the protocals of drug recognition experts are required to be a top DUI defense lawyer. The National College of DUI Defense (NCDD) is an organization comprised of the best DUI defense attorneys in the entire country whose mission is to educate its members and ensure that effective representation is available to all citizens in this country who need it. Only attorneys who specialize and excel in DUI defense are invited to become members. Proscutors and judges are excluded. The College sponsors four continuing legal education conferences each year. This year the 2013 Winter Conference was located in Scottsdale Arizona at the Hyatt Regency Resort and Spa at Gainey Ranch January 17th and 18th.  Barton Morris has been a member since 2010 and with enthusiasm and excitement attended the conference which was, as expected, a tremendous experience.
The weekend began with the Attendee's Reception where 95 conference attendees, faculty, regents and staff celebrated the College and the begining of the Winter Session. New members were welcomed and old friends were reunited admist a wonderful dinner and drinks afterwhich live music was enjoyed in a beautiful setting. For the next two days, the attendees were provided with specialized lectures and demonstrations on many subjects inlcuding jury selection, cross examination of arresting officers, cross examination of forensic scientists, breath testing theory and issue spotting and SFST cross examination. The sessions were incredibly educational, practical and inspirational. Barton Morris learned several new mehods and strategies which will certainly allow him to continue to practice at the top of the DUI defebese field and allow his clients to benefit with exceptional and effective results.
Equally important, Barton Morris stregthened his relationships with the best DUI lawyers in the country who are mutually willing to share strategies, knowledge and tactics to ensure we all stay at the top of our game in providing exceptional defense to those accussed and charged with alcohol and drug related driving offenses.
The next NCDD session is Mastering Scientific Evidence March 21-22 in New Orleans, LA followed by the Summer Session at Harvard University.
In order to provide effective and exceptional DUI defense, continuing DUI education and practice is absolutely necessary. Barton Morris is 100% dedicated to seek and receive this education regularly because his clients deserve the best defense services available.
Attorney Morris has enjoyed a very successful and distinguished career as a trial lawyer providing high quality legal representation in the area of state and federal criminal defense for 20 years. He is known for his trial preparation by fellow attorneys, judges and clients alike. As a trial attorney, he is dedicated to attaining justice in every case, and is prepared to take on complex legal issues with success. Barton and his law firm pride themselves on obtaining results for their clients that other attorneys cannot.
Not only does Barton Morris have extensive experience, he also engages in continuing legal education to provide the highest quality legal services. Barton has received specialized scientific training through the American Chemical Society. He attended the prestigious Trial Lawyers College and serves on its Alumni Association Board of Directors. Barton Morris is also a board member of several distinguished legal associations including the Michigan Association of OWI Attorneys, and the DUI Defense Lawyer's Association Justice Foundation. He is also an active member of the National Association of Criminal Defense Attorneys and has also graduated from their National Criminal Defense Trial College in Macon, Georgia.
Barton Morris was chosen as a Top Lawyer of Metro Detroit for 2012, 2013, 2014, 2019 and 2020 for DUI/DWI and criminal defense by DBusiness Magazine and Hour Magazine. Barton Morris was also chosen as a Super Lawyer in Criminal Defense for 2014-2020 and Barton Morris is the only Lawyer in Michigan designated by the American Chemical Society as a "Forensic Lawyer-Scientist"