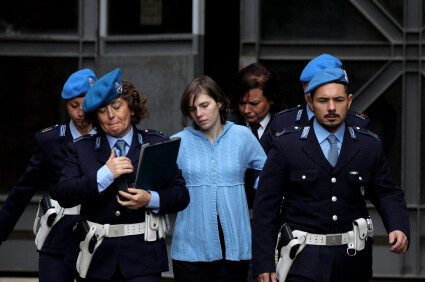 In 2007 Meredith Kercher was found dead in the bedroom of her home in Perugia, Italy with her throat slit. Amanda Knox, originally from Seattle, Washington rented the house with Meredith and was her roommate. Amanda and her Italian boyfriend, Raffaele Sollecito, were charged with the murder. They were both tried and convicted in 2009.  Knox was sentenced to 26 years in prison. She had served four years in prison when the Italian court of appeals reversed the convictions in 2011. The appellate court was persuaded because the DNA tests were found to be faulty, the prosecution proved no motive and a murder weapon was never found. A second trial was held and Amanda and her boyfriend were acquitted. She was released from prison and she returned home to Seattle where she presently attends school at the University of Washington. She is now 25 years old. Later, another suspect, Italian neighbor Rudy Guede was charged and convicted of murdering Kercher. Guede is presently serving a 16 year prison sentence.
For Knox, it seemed that the nightmare was over and she can get back to her life. In the United States a person cannot be charged and tried for the same offense for which they were acquitted. It is a right protected by the Fifth Amendment of our Constitution, the right to be free from Double Jeopardy. Unfortunately for Knox, the nightmare continues. The Italian Supreme Court overturned the acquittals of Knox and her former boyfriend. They will now face a third trial because Italy, like many other countries, does not recognize the defense of double jeopardy. Americans, most of whom have never been charged with a criminal offense, find Italy's ability to prosecute Knox again, inherently unfair and improper.
In the United States protection from criminal double jeopardy is a constitutional right pursuant to the Fifth Amendment which states "
[N]or shall any person be subject for the same offense to be twice put in jeopardy of life or limb . . ." Jeopardy attaches when the jury has been selected and sworn. If the defendant is found not guilty by the jury the prosecution cannot prosecute the same, or similar crimes arising from the same facts and circumstances.
Americans have been taught this legal principle since childhood. We have been reminded of this defense from television, movies, and books. It is part of our culture and something which most Americans believe is fair and just. Double Jeopardy protection is thought to be universally recognized. It is not.
In fact, even in this country there are exceptions. The officers involved in the 1991 Rodney King beating were first acquitted by a state court and subsequently charged and tried by a federal court. This was permissible because the prosecutions were different sovereignties located in the same state. Different sovereignties means a different agency having jurisdiction over a different geographic area and/or different body of law. For example the City of Royal Oak is bounded by its city limits. The Federal Eastern District of Michigan includes Royal Oak but also includes all of Oakland, Macomb and Wayne Counties. They are different soverign entities.
Another exception exists between a military court and a civilian court if the defendant is a member of the military.
In 1932 the United States Supreme Court provided an interpretation of the double jeopardy rule in Blockburger v. United States stating that the government may separately try and punish a defendant for two crimes if each crime contains an element that the other does not. This rule still applies today unless Congress creates an offense that it specifically intends to be a separate offense like conspiracy which punishes a person for committing a crime when two or more people agree to commit that crime and take affirmative steps toward its commission. The conspiracy offense is often prosecuted in Federal court.
Further, double jeopardy does not apply to civil a proceeding which is why OJ Simpson was able to be successfully sued for the wrongful death of his ex-wife, Nicole Brown Simpson, after he was criminally acquitted of her murder.
Knox will not be attending her next trial in Italy which may not be scheduled for some time. If she gets convicted again, Italy would then have to apply to the United States for her extradition. The United States may deny it because of Italy's lack of double jeopardy protection. Knox is very likely to be sued for wrongful death by the Kercher family because she reportedly received a four million dollar advance for a book to be written.
Attorney Morris has enjoyed a very successful and distinguished career as a trial lawyer providing high quality legal representation in the area of state and federal criminal defense for 20 years. He is known for his trial preparation by fellow attorneys, judges and clients alike. As a trial attorney, he is dedicated to attaining justice in every case, and is prepared to take on complex legal issues with success. Barton and his law firm pride themselves on obtaining results for their clients that other attorneys cannot.
Not only does Barton Morris have extensive experience, he also engages in continuing legal education to provide the highest quality legal services. Barton has received specialized scientific training through the American Chemical Society. He attended the prestigious Trial Lawyers College and serves on its Alumni Association Board of Directors. Barton Morris is also a board member of several distinguished legal associations including the Michigan Association of OWI Attorneys, and the DUI Defense Lawyer's Association Justice Foundation. He is also an active member of the National Association of Criminal Defense Attorneys and has also graduated from their National Criminal Defense Trial College in Macon, Georgia.
Barton Morris was chosen as a Top Lawyer of Metro Detroit for 2012, 2013, 2014, 2019 and 2020 for DUI/DWI and criminal defense by DBusiness Magazine and Hour Magazine. Barton Morris was also chosen as a Super Lawyer in Criminal Defense for 2014-2020 and Barton Morris is the only Lawyer in Michigan designated by the American Chemical Society as a "Forensic Lawyer-Scientist"